TeaGlee
Upcycled Certified - What's that??
by Naja Thomas on Mar 29, 2022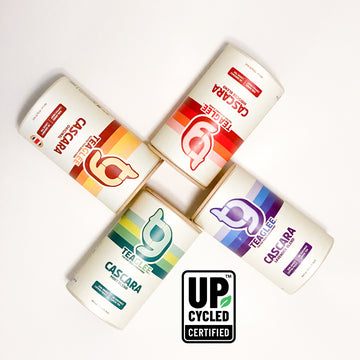 We all know and love coffee but, there is a hidden dark side - and we aren't talking about drinking it black! Coffee production produces a huge amount of food waste.
Approximately 10 million tons of coffee cherry waste are produced globally each year with most of it being diverted to local landfills.  That's nearly 55 million pounds of food waste being created every day - a literal mountain!  We recognized a huge opportunity to upcycle this food waste, part of the coffee cherry that is normally discarded.  The rescued part of the coffee cherry, also known as cascara, becomes a nutritionally dense product when dried that can be enjoyed as a tea.  Not only are we sharing the amazing flavors and benefits of cascara but we are also helping make a difference in reducing food waste! 
All TeaGlee Cascara Blends are Upcycled Certified which shows our commitment and enthusiasm in reducing food waste.  The positive effects of reducing food waste are many, which include reducing pollution in and around coffee farms, reducing green house gas emissions, and increasing the profit per acre of a coffee farm.  Most importantly, TeaGlee Cascara is a great for your health and tastes great!  It's a low caffeine and low in sweetness tea that may help reduce inflammation and boost your mood. 
Reducing food waste is critical today as well as for future generations. As the population of our planet grows, finding ways to maximize our food utilization is more important than ever. We are proud that TeaGlee is part of a coalition of other like-minded companies that are focused on reducing food waste through upcycling!
Check out our label and ingredient list to see our certification! It's our hope that we will start to see more products like ours in the future and you'll see the certification on more and more items! If you would like to learn more, check out: https://www.upcycledfood.org/