TeaGlee
This is How We Brew It!
by Naja Thomas on Oct 12, 2021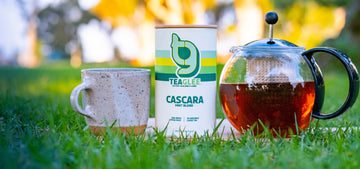 This is how we brew it, cue the music! This is how we brew it! It doesn't need to be Friday night (unless that's what you want!) for you to make a tasty cup of our cascara tea. We here at TeaGlee want to make the process as easy as possible for you so our cascara teas come in both loose and ground versions. 
The magic brewing ratio for our loose cascara blend is:
1 tablespoon : 6 ounces of water
For a perfect brewed cup of our ground cascara blend, the ratio is:
2 teaspoons : 6 ounces of water
The loose cascara blend tea can be steeped like any other loose leaf tea. We like to use an infuser, strainer, or even a French Press and let the tea steep for 4-5 minutes for best results! If you can be forgetful (like me) don't fret! Cascara doesn't get bitter and over extracted like green or black teas.
Now for the star of the show, our ground cascara! Because it is ground you can use it just like you would coffee, that means it works in your home coffee brewing machine (great for us slow risers with busy lives). If you enjoy the process of making pour over coffee you can do that with our ground tea too! We've even made our cascara in an Aeropress (for you coffee enthusiasts), so get creative and tell us how you brew it. You can get bonus points if you share pics on social and tag us ;-)